Offline activation
With each Squish Test Center license, one can obtain an Activation Code. It is sent to you by email after purchase, but it can also be found from My Licenses. Select your Test Center User Subscription, and then select License Details. The Activation Code should be visible now.
After starting Squish Test Center and accessing the site for your first time, you will be asked to enter the Activation Code.
After entering your Activation Code, you will be redirected to the manual activation page if the Squish Test Center instance you are trying to activate cannot connect to the Internet or to the Squish Test Center Activation Server.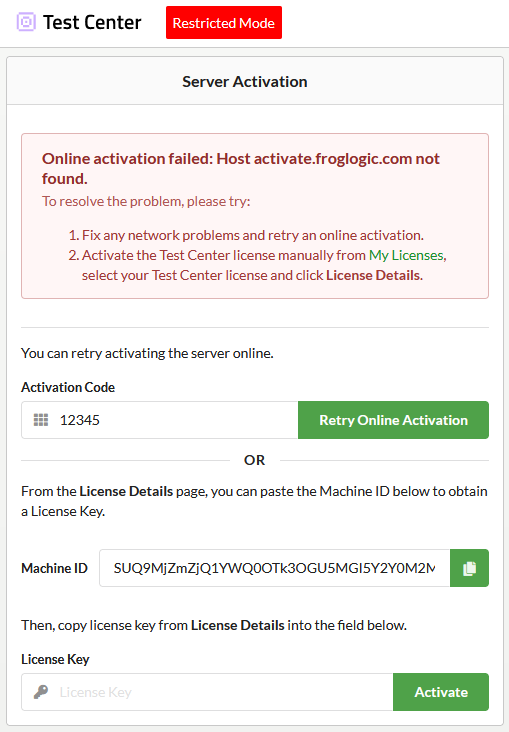 Manual Activation Page
From Squish Test Center, copy the Machine ID to the clipboard and go back to the License Details page where you got the Activation Code. On the right, there is a License Self Activation section where you can paste the Machine ID. Paste it and click Activate.
Now, in the License Details, you should see a License Key, which you can copy to clipboard.
You can paste that into the License Key field of your Squish Test Center instance. To finish the activation process, click Activate.
© 2023 The Qt Company Ltd. Documentation contributions included herein are the copyrights of their respective owners.
The documentation provided herein is licensed under the terms of the GNU Free Documentation License version 1.3 as published by the Free Software Foundation.
Qt and respective logos are trademarks of The Qt Company Ltd. in Finland and/or other countries worldwide. All other trademarks are property of their respective owners.