Hello Speak#
The Hello Speak example reads out user-provided text.
The Hello Speak example demonstrates how QTextToSpeech can be used in a Qt C++ application to read out text, and to control the speech.
The example uses a widget UI to provide controls for the pitch, volume, and rate of the speech. It also lets the user select an engine, the language, and a voice.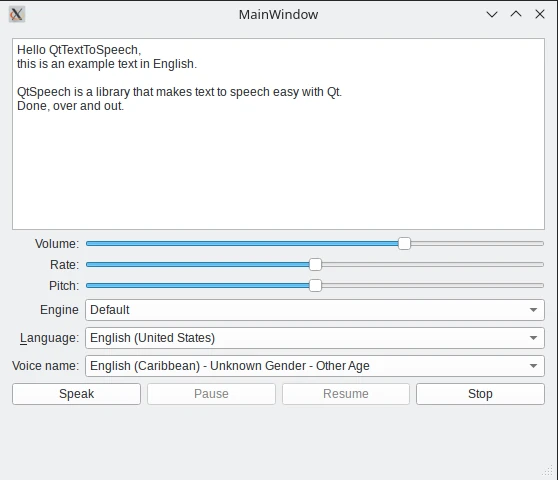 # Copyright (C) 2023 The Qt Company Ltd.




# SPDX-License-Identifier: LicenseRef-Qt-Commercial OR BSD-3-Clause





"""PySide6 port of the hello_speak example from Qt v6.x"""





import

 

sys





from

 

PySide6.QtCore

 

import

 

QLoggingCategory




from

 

PySide6.QtWidgets

 

import

 

QApplication





from

 

mainwindow

 

import

 

MainWindow






if

 

__name__

 

==

 

"__main__"

:


    

QLoggingCategory

.

setFilterRules

(

"qt.speech.tts=true

\n

qt.speech.tts.*=true"

)



    

app

 

=

 

QApplication

(

sys

.

argv

)


    

win

 

=

 

MainWindow

()


    

win

.

show

()


    

sys

.

exit

(

app

.

exec

())



# Copyright (C) 2023 The Qt Company Ltd.




# SPDX-License-Identifier: LicenseRef-Qt-Commercial OR BSD-3-Clause





from

 

PySide6.QtCore

 

import

 

QLocale

,

 

QSignalBlocker

,

 

Slot




from

 

PySide6.QtWidgets

 

import

 

QMainWindow




from

 

PySide6.QtTextToSpeech

 

import

 

QTextToSpeech

,

 

QVoice





from

 

ui_mainwindow

 

import

 

Ui_MainWindow






class

 

MainWindow

(

QMainWindow

):



    

def

 

__init__

(

self

,

 

parent

=

None

):


        

super

()

.

__init__

(

parent

)



        

self

.

_speech

 

=

 

None


        

self

.

_voices

 

=

 

[]



        

self

.

_ui

 

=

 

Ui_MainWindow

()


        

self

.

_ui

.

setupUi

(

self

)



        

# Populate engine selection list


        

self

.

_ui

.

engine

.

addItem

(

"Default"

,

 

"default"

)


        

engines

 

=

 

QTextToSpeech

.

availableEngines

()


        

for

 

engine

 

in

 

engines

:


            

self

.

_ui

.

engine

.

addItem

(

engine

,

 

engine

)


        

self

.

_ui

.

engine

.

setCurrentIndex

(

0

)


        

self

.

engine_selected

(

0

)



        

self

.

_ui

.

pitch

.

valueChanged

.

connect

(

self

.

set_pitch

)


        

self

.

_ui

.

rate

.

valueChanged

.

connect

(

self

.

set_rate

)


        

self

.

_ui

.

volume

.

valueChanged

.

connect

(

self

.

set_volume

)


        

self

.

_ui

.

engine

.

currentIndexChanged

.

connect

(

self

.

engine_selected

)


        

self

.

_ui

.

voice

.

currentIndexChanged

.

connect

(

self

.

voice_selected

)


        

self

.

_ui

.

language

.

currentIndexChanged

.

connect

(

self

.

language_selected

)



    

@Slot

(

int

)


    

def

 

set_rate

(

self

,

 

rate

):


        

self

.

_speech

.

setRate

(

rate

 

/

 

10.0

)



    

@Slot

(

int

)


    

def

 

set_pitch

(

self

,

 

pitch

):


        

self

.

_speech

.

setPitch

(

pitch

 

/

 

10.0

)



    

@Slot

(

int

)


    

def

 

set_volume

(

self

,

 

volume

):


        

self

.

_speech

.

setVolume

(

volume

 

/

 

100.0

)



    

@Slot

(

QTextToSpeech

.

State

)


    

def

 

state_changed

(

self

,

 

state

):


        

if

 

state

 

==

 

QTextToSpeech

.

Speaking

:


            

self

.

_ui

.

statusbar

.

showMessage

(

"Speech started..."

)


        

elif

 

state

 

==

 

QTextToSpeech

.

Ready

:


            

self

.

_ui

.

statusbar

.

showMessage

(

"Speech stopped..."

,

 

2000

)


        

elif

 

state

 

==

 

QTextToSpeech

.

Paused

:


            

self

.

_ui

.

statusbar

.

showMessage

(

"Speech paused..."

)


        

else

:


            

self

.

_ui

.

statusbar

.

showMessage

(

"Speech error!"

)



        

self

.

_ui

.

pauseButton

.

setEnabled

(

state

 

==

 

QTextToSpeech

.

Speaking

)


        

self

.

_ui

.

resumeButton

.

setEnabled

(

state

 

==

 

QTextToSpeech

.

Paused

)


        

can_stop

 

=

 

state

 

==

 

QTextToSpeech

.

Speaking

 

or

 

state

 

==

 

QTextToSpeech

.

Paused


        

self

.

_ui

.

stopButton

.

setEnabled

(

can_stop

)



    

@Slot

(

int

)


    

def

 

engine_selected

(

self

,

 

index

):


        

engine_name

 

=

 

self

.

_ui

.

engine

.

itemData

(

index

)


        

self

.

_speech

 

=

 

None


        

self

.

_speech

 

=

 

(

QTextToSpeech

(

self

)

 

if

 

engine_name

 

==

 

"default"


                        

else

 

QTextToSpeech

(

engine_name

,

 

self

))



        

# Block signals of the languages combobox while populating


        

current

 

=

 

self

.

_speech

.

locale

()


        

with

 

QSignalBlocker

(

self

.

_ui

.

language

):


            

self

.

_ui

.

language

.

clear

()


            

# Populate the languages combobox before connecting its signal.


            

locales

 

=

 

self

.

_speech

.

availableLocales

()


            

for

 

locale

 

in

 

locales

:


                

lang

 

=

 

QLocale

.

languageToString

(

locale

.

language

())


                

territory

 

=

 

QLocale

.

territoryToString

(

locale

.

territory

())


                

self

.

_ui

.

language

.

addItem

(

f

"

{

lang

}

 (

{

territory

}

)"

,

 

locale

)


                

if

 

locale

.

name

()

 

==

 

current

.

name

():


                    

current

 

=

 

locale



        

self

.

set_rate

(

self

.

_ui

.

rate

.

value

())


        

self

.

set_pitch

(

self

.

_ui

.

pitch

.

value

())


        

self

.

set_volume

(

self

.

_ui

.

volume

.

value

())



        

self

.

_ui

.

speakButton

.

clicked

.

connect

(

self

.

speak_text

)


        

self

.

_ui

.

stopButton

.

clicked

.

connect

(

self

.

stop_speaking

)


        

self

.

_ui

.

pauseButton

.

clicked

.

connect

(

self

.

pause_speaking

)


        

self

.

_ui

.

resumeButton

.

clicked

.

connect

(

self

.

_speech

.

resume

)



        

self

.

_speech

.

stateChanged

.

connect

(

self

.

state_changed

)


        

self

.

_speech

.

localeChanged

.

connect

(

self

.

locale_changed

)



        

self

.

locale_changed

(

current

)



    

@Slot

()


    

def

 

speak_text

(

self

):


        

self

.

_speech

.

say

(

self

.

_ui

.

plainTextEdit

.

toPlainText

())



    

@Slot

()


    

def

 

stop_speaking

(

self

):


        

self

.

_speech

.

stop

()



    

@Slot

()


    

def

 

pause_speaking

(

self

):


        

self

.

_speech

.

pause

()



    

@Slot

(

int

)


    

def

 

language_selected

(

self

,

 

language

):


        

locale

 

=

 

self

.

_ui

.

language

.

itemData

(

language

)


        

self

.

_speech

.

setLocale

(

locale

)



    

@Slot

(

int

)


    

def

 

voice_selected

(

self

,

 

index

):


        

self

.

_speech

.

setVoice

(

self

.

_voices

[

index

])



    

@Slot

(

QLocale

)


    

def

 

locale_changed

(

self

,

 

locale

):


        

self

.

_ui

.

language

.

setCurrentIndex

(

self

.

_ui

.

language

.

findData

(

locale

))



        

with

 

QSignalBlocker

(

self

.

_ui

.

voice

):


            

self

.

_ui

.

voice

.

clear

()


            

self

.

_voices

 

=

 

self

.

_speech

.

availableVoices

()


            

current_voice

 

=

 

self

.

_speech

.

voice

()


            

for

 

voice

 

in

 

self

.

_voices

:


                

name

 

=

 

voice

.

name

()


                

gender

 

=

 

QVoice

.

genderName

(

voice

.

gender

())


                

age

 

=

 

QVoice

.

ageName

(

voice

.

age

())


                

self

.

_ui

.

voice

.

addItem

(

f

"

{

name

}

 - 

{

gender

}

 - 

{

age

}

"

)


                

if

 

voice

.

name

()

 

==

 

current_voice

.

name

():


                    

self

.

_ui

.

voice

.

setCurrentIndex

(

self

.

_ui

.

voice

.

count

()

 

-

 

1

)



<?xml version="1.0" encoding="UTF-8"?>




<ui

 

version=

"4.0"

>




 

<class>

MainWindow

</class>




 

<widget

 

class=

"QMainWindow"

 

name=

"MainWindow"

>




  

<property

 

name=

"geometry"

>




   

<rect>




    

<x>

0

</x>




    

<y>

0

</y>




    

<width>

551

</width>




    

<height>

448

</height>




   

</rect>




  

</property>




  

<property

 

name=

"windowTitle"

>




   

<string>

MainWindow

</string>




  

</property>




  

<widget

 

class=

"QWidget"

 

name=

"centralwidget"

>




   

<layout

 

class=

"QVBoxLayout"

 

name=

"verticalLayout"

>




    

<item>




     

<widget

 

class=

"QPlainTextEdit"

 

name=

"plainTextEdit"

>




      

<property

 

name=

"sizePolicy"

>




       

<sizepolicy

 

hsizetype=

"Expanding"

 

vsizetype=

"Expanding"

>




        

<horstretch>

0

</horstretch>




        

<verstretch>

0

</verstretch>




       

</sizepolicy>




      

</property>




      

<property

 

name=

"plainText"

>




       

<string>

Hello

 

QtTextToSpeech,
this

 

is

 

an

 

example

 

text

 

in

 

English.

QtSpeech

 

is

 

a

 

library

 

that

 

makes

 

text

 

to

 

speech

 

easy

 

with

 

Qt.
Done,

 

over

 

and

 

out.

</string>




      

</property>




     

</widget>




    

</item>




    

<item>




     

<layout

 

class=

"QGridLayout"

 

name=

"gridLayout"

>




      

<item

 

row=

"4"

 

column=

"0"

>




       

<widget

 

class=

"QLabel"

 

name=

"label_5"

>




        

<property

 

name=

"sizePolicy"

>




         

<sizepolicy

 

hsizetype=

"Minimum"

 

vsizetype=

"Preferred"

>




          

<horstretch>

0

</horstretch>




          

<verstretch>

0

</verstretch>




         

</sizepolicy>




        

</property>




        

<property

 

name=

"text"

>




         

<string>

Engine

</string>




        

</property>




        

<property

 

name=

"alignment"

>




         

<set>

Qt::AlignRight|Qt::AlignTrailing|Qt::AlignVCenter

</set>




        

</property>




       

</widget>




      

</item>




      

<item

 

row=

"3"

 

column=

"0"

>




       

<widget

 

class=

"QLabel"

 

name=

"label_3"

>




        

<property

 

name=

"sizePolicy"

>




         

<sizepolicy

 

hsizetype=

"Minimum"

 

vsizetype=

"Preferred"

>




          

<horstretch>

0

</horstretch>




          

<verstretch>

0

</verstretch>




         

</sizepolicy>




        

</property>




        

<property

 

name=

"text"

>




         

<string>

Pitch:

</string>




        

</property>




        

<property

 

name=

"alignment"

>




         

<set>

Qt::AlignRight|Qt::AlignTrailing|Qt::AlignVCenter

</set>




        

</property>




       

</widget>




      

</item>




      

<item

 

row=

"5"

 

column=

"0"

>




       

<widget

 

class=

"QLabel"

 

name=

"label_4"

>




        

<property

 

name=

"sizePolicy"

>




         

<sizepolicy

 

hsizetype=

"Minimum"

 

vsizetype=

"Preferred"

>




          

<horstretch>

0

</horstretch>




          

<verstretch>

0

</verstretch>




         

</sizepolicy>




        

</property>




        

<property

 

name=

"text"

>




         

<string>

&amp;

Language:

</string>




        

</property>




        

<property

 

name=

"alignment"

>




         

<set>

Qt::AlignRight|Qt::AlignTrailing|Qt::AlignVCenter

</set>




        

</property>




        

<property

 

name=

"buddy"

>




         

<cstring>

language

</cstring>




        

</property>




       

</widget>




      

</item>




      

<item

 

row=

"3"

 

column=

"2"

>




       

<widget

 

class=

"QSlider"

 

name=

"pitch"

>




        

<property

 

name=

"minimum"

>




         

<number>

-10

</number>




        

</property>




        

<property

 

name=

"maximum"

>




         

<number>

10

</number>




        

</property>




        

<property

 

name=

"singleStep"

>




         

<number>

1

</number>




        

</property>




        

<property

 

name=

"orientation"

>




         

<enum>

Qt::Horizontal

</enum>




        

</property>




       

</widget>




      

</item>




      

<item

 

row=

"6"

 

column=

"0"

>




       

<widget

 

class=

"QLabel"

 

name=

"label_6"

>




        

<property

 

name=

"text"

>




         

<string>

Voice

 

name:

</string>




        

</property>




        

<property

 

name=

"alignment"

>




         

<set>

Qt::AlignRight|Qt::AlignTrailing|Qt::AlignVCenter

</set>




        

</property>




       

</widget>




      

</item>




      

<item

 

row=

"1"

 

column=

"2"

>




       

<widget

 

class=

"QSlider"

 

name=

"volume"

>




        

<property

 

name=

"maximum"

>




         

<number>

100

</number>




        

</property>




        

<property

 

name=

"singleStep"

>




         

<number>

5

</number>




        

</property>




        

<property

 

name=

"pageStep"

>




         

<number>

20

</number>




        

</property>




        

<property

 

name=

"value"

>




         

<number>

70

</number>




        

</property>




        

<property

 

name=

"orientation"

>




         

<enum>

Qt::Horizontal

</enum>




        

</property>




       

</widget>




      

</item>




      

<item

 

row=

"5"

 

column=

"2"

>




       

<widget

 

class=

"QComboBox"

 

name=

"language"

>




        

<property

 

name=

"sizePolicy"

>




         

<sizepolicy

 

hsizetype=

"Expanding"

 

vsizetype=

"Fixed"

>




          

<horstretch>

0

</horstretch>




          

<verstretch>

0

</verstretch>




         

</sizepolicy>




        

</property>




       

</widget>




      

</item>




      

<item

 

row=

"6"

 

column=

"2"

>




       

<widget

 

class=

"QComboBox"

 

name=

"voice"

/>




      

</item>




      

<item

 

row=

"2"

 

column=

"0"

>




       

<widget

 

class=

"QLabel"

 

name=

"label"

>




        

<property

 

name=

"sizePolicy"

>




         

<sizepolicy

 

hsizetype=

"Minimum"

 

vsizetype=

"Preferred"

>




          

<horstretch>

0

</horstretch>




          

<verstretch>

0

</verstretch>




         

</sizepolicy>




        

</property>




        

<property

 

name=

"text"

>




         

<string>

Rate:

</string>




        

</property>




        

<property

 

name=

"alignment"

>




         

<set>

Qt::AlignRight|Qt::AlignTrailing|Qt::AlignVCenter

</set>




        

</property>




       

</widget>




      

</item>




      

<item

 

row=

"1"

 

column=

"0"

>




       

<widget

 

class=

"QLabel"

 

name=

"label_2"

>




        

<property

 

name=

"sizePolicy"

>




         

<sizepolicy

 

hsizetype=

"Minimum"

 

vsizetype=

"Preferred"

>




          

<horstretch>

0

</horstretch>




          

<verstretch>

0

</verstretch>




         

</sizepolicy>




        

</property>




        

<property

 

name=

"text"

>




         

<string>

Volume:

</string>




        

</property>




        

<property

 

name=

"alignment"

>




         

<set>

Qt::AlignRight|Qt::AlignTrailing|Qt::AlignVCenter

</set>




        

</property>




       

</widget>




      

</item>




      

<item

 

row=

"2"

 

column=

"2"

>




       

<widget

 

class=

"QSlider"

 

name=

"rate"

>




        

<property

 

name=

"minimum"

>




         

<number>

-10

</number>




        

</property>




        

<property

 

name=

"maximum"

>




         

<number>

10

</number>




        

</property>




        

<property

 

name=

"orientation"

>




         

<enum>

Qt::Horizontal

</enum>




        

</property>




       

</widget>




      

</item>




      

<item

 

row=

"4"

 

column=

"2"

>




       

<widget

 

class=

"QComboBox"

 

name=

"engine"

>




        

<property

 

name=

"sizePolicy"

>




         

<sizepolicy

 

hsizetype=

"Expanding"

 

vsizetype=

"Fixed"

>




          

<horstretch>

0

</horstretch>




          

<verstretch>

0

</verstretch>




         

</sizepolicy>




        

</property>




       

</widget>




      

</item>




     

</layout>




    

</item>




    

<item>




     

<layout

 

class=

"QHBoxLayout"

 

name=

"horizontalLayout"

>




      

<item>




       

<widget

 

class=

"QPushButton"

 

name=

"speakButton"

>




        

<property

 

name=

"text"

>




         

<string>

Speak

</string>




        

</property>




       

</widget>




      

</item>




      

<item>




       

<widget

 

class=

"QPushButton"

 

name=

"pauseButton"

>




        

<property

 

name=

"enabled"

>




         

<bool>

false

</bool>




        

</property>




        

<property

 

name=

"text"

>




         

<string>

Pause

</string>




        

</property>




       

</widget>




      

</item>




      

<item>




       

<widget

 

class=

"QPushButton"

 

name=

"resumeButton"

>




        

<property

 

name=

"enabled"

>




         

<bool>

false

</bool>




        

</property>




        

<property

 

name=

"text"

>




         

<string>

Resume

</string>




        

</property>




       

</widget>




      

</item>




      

<item>




       

<widget

 

class=

"QPushButton"

 

name=

"stopButton"

>




        

<property

 

name=

"text"

>




         

<string>

Stop

</string>




        

</property>




       

</widget>




      

</item>




     

</layout>




    

</item>




    

<item>




     

<spacer

 

name=

"verticalSpacer"

>




      

<property

 

name=

"orientation"

>




       

<enum>

Qt::Vertical

</enum>




      

</property>




      

<property

 

name=

"sizeHint"

 

stdset=

"0"

>




       

<size>




        

<width>

20

</width>




        

<height>

40

</height>




       

</size>




      

</property>




     

</spacer>




    

</item>




   

</layout>




  

</widget>




  

<widget

 

class=

"QStatusBar"

 

name=

"statusbar"

/>




 

</widget>




 

<tabstops>




  

<tabstop>

plainTextEdit

</tabstop>




  

<tabstop>

speakButton

</tabstop>




  

<tabstop>

pauseButton

</tabstop>




  

<tabstop>

resumeButton

</tabstop>




  

<tabstop>

stopButton

</tabstop>




 

</tabstops>




 

<resources/>




 

<connections/>




</ui>