Squish Support Request Wizard
To open the Squish Support Request Wizard, select Help > Contact Support.
The wizard guides you through the process of creating a customer support ticket. The first step asks for your contact information. You must enter a valid E-mail address. You can retrieve your Customer ID from the license info.
In Step 2, you can click a link to search known Squish issues, or describe the issue and the steps for reproducing it. You cannot leave the Summary and Description empty.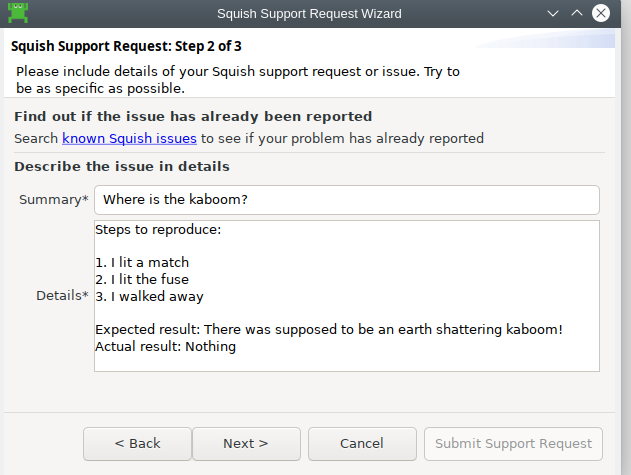 In Step 3, you can add file attachments to the support request. You should add at least the support information .zip file that you can generate by clicking the Collect and Attach Support Information, which opens the Collect Information for Squish Support dialog. To add any file to the support request, click the Add Attachment button.
The total size of attachments is limited to 50 MB. When the limit is crossed, a warning appears. To remove attachments, click the red X button.
Click the Submit Support Request button to send the request. Subsequent communication happens over email.
© 2023 The Qt Company Ltd. Documentation contributions included herein are the copyrights of their respective owners.
The documentation provided herein is licensed under the terms of the GNU Free Documentation License version 1.3 as published by the Free Software Foundation.
Qt and respective logos are trademarks of The Qt Company Ltd. in Finland and/or other countries worldwide. All other trademarks are property of their respective owners.