Image
The Image view is shown in the Test Management Perspective.
It displays images opened either from the Test Suites view or from the Test Results view. For example, you can view failed images.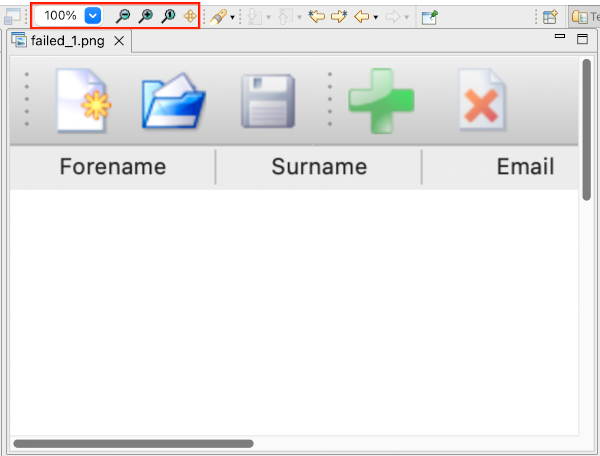 The Image view and zoom buttons on the main toolbar
You can use the zoom buttons on the main toolbar to zoom images in the Image view:
Zoom in
Set the zoom factor to 100%
Zoom out
Fit in window
The Image view fills a gap on systems where the Squish IDE cannot access the platform's standard image viewer and only provides basic viewing capabilities of the image.
To use some other viewer, select Edit > Preferences > General > File Associations. The tab stores file associations separately for each image file type (.png, .gif, .jpg). Select a file type in File types to list the editors that the Squish IDE associates with the file type in Associated editors.
Click the Add button to open the Editor Selection dialog, where you can select an external editor installed on the system to open files of the given file type. The additional editors become available in the Open With context menu.
To use an editor to open image files from the Test Results view by default, select the editor in Associated editors and click the Default button.
© 2023 The Qt Company Ltd. Documentation contributions included herein are the copyrights of their respective owners.
The documentation provided herein is licensed under the terms of the GNU Free Documentation License version 1.3 as published by the Free Software Foundation.
Qt and respective logos are trademarks of The Qt Company Ltd. in Finland and/or other countries worldwide. All other trademarks are property of their respective owners.